GIVE THE GIFT OF THEATRE THIS CHRISTMAS!!

​CLICK HERE FOR SINGLE TICKETS
REGULAR PRICE $55 PLUS GST
​SENIOR/STUDENT $50 PLUS GST
A Little Piece of Heaven
by Matthew Carlin in arrangement with Heuer Publishing
February 8-24, 2018
An unlikely relationship is forged in the quirky tourist shop called "A Little Piece of Heaven."
Restless biker Mike, who works in the shop, finds a friend in the sassy elderly Lily, although their relationship
certainly doesn't start out that way. But there's something odd about this little shop owned by the equally
odd Elizabeth and Henry. Suspicion and disagreement turn to respect and trust
​ in this place where long lost things are finally found.
​
April 26-May 12, 2018A Mad Breakfast
by I. M. Gray
One of the funniest one-acts ever written. Hilarious farce dealing with what happened when Jones and Miss Brown, practical jokers, told each of the guests at their boarding house that Mr. Long, a wealthy visitor, was especially interested in their individual hobbies. Long is told the house is an insane asylum. The results are a riot.
When God Comes For Breakfast, You Don't Burn the Toast
by Gary Apple, in special arrangement with Samuel French Inc.
What do you do when "The Almighty" drops in for a casual breakfast? When Harry and Beatrice Katzman are faced with this,
the commonplace and the totally unexpected come together in a flurry of humor and excitement.
​This intriguing and entertaining theatrical experience is guaranteed to leave your audience feeling exhilarated.
---
---

THURSDAY, FRIDAY, SATURDAY: Doors at 6 pm, Buffet at 6:45 pm and Show at 8 pm
KINSMEN BANQUET HALL ST. ALBERT 47 Riel Drive. St Albert.....
Up from ENJOY Centre, Past Soccer Club, Rugby Club... Then it's us @ the Kinsmen Hall
​BUFFET & SHOW
Seniors: 60 & over.........We ID at Door (Just kidding)
---
---
---
THANK YOU!!!! .....St Albert Kinsmen......

We would like to send the Kinsmen a BIG THANK YOU, because none of our shows would be possible without their kindness and generosity. They provide space and time for us to rehearse, and are always willing to help out any way they can. Thank you Kinsmen of St Albert. To book your event call Kristen @ (780)220-4747
---
---
Who are we?
The troupe is a non-profit volunteer run Theatre company in St Albert, Alberta. It came into being from the experiences of the four founders – Danielle Pearce, Shirley Williams, Mark McGarrigle, and David Haas – staging Self Help by Norm Foster in February 2011.
After recuperating for a few months, discussions began about future initiatives the four would like to see for mounting further theatrical productions and training in the St. Albert area. Finally the four decided to get together and stage "Opening Night" by Norm Foster; a behind the scenes look at how characters react under stress on opening night of a play."Opening Night" was a success and followed in April 2012 with another Norm Foster Play called "Bedtime Stories" by Norm Foster; six intertwining vignettes examining the lives of many crazy characters . That closed out our 2011/2012 season.
Summer saw a change of guard on our board. We welcome Trevor Lawless and Kate Elliott to the board alongside Mark McGarrigle. Our 2012/13 Season is a great one, starting with "The Nuns Trail" by David Barrett in October. Valentines day 2013 sees the presentation of "Wife begins at Forty' by Cooney ,Sultan and Earl Barret; a cute story of a couple that are re-evaluating everything in their life, including their marriage.

---
---
Our Tribal Phoenix Design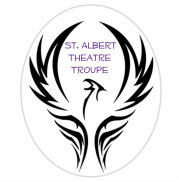 Tribal Phoenix Copyright 2003 Chris Clousser.
Thank you for allowing us to use his Tribal Phoenix design as our Logo.
---
---