2016/17 Single Tickets available NOW
CLICK HERE FOR SINGLE TICKETS
REGULAR PRICE $55 PLUS GST
​SENIOR/STUDENT $50 PLUS GST
SAVE 20% ON SEASON SUBSCRIPTIONS

3C by David Adjmi Nov 10,11,12,17,18,19,24,25,26
ADULT THEME
The war in Vietnam is over and Brad, an ex-serviceman, lands in L.A. to start a new life. When he winds up trashed in Connie and Linda's kitchen after a wild night of partying, the three strike a deal for an arrangement that has hilarious and devastating consequences for everyone...
Buying The Moose by Michael Wilmot Feb 16,17,18,23,24 Mar 2,3,4
After his wife discovers him with a blow up doll which is wearing one of her dresses, Rob is out in the cold when she, for some reason, assumes the worst! Rob connects with his brother Greg while his wife connects with Greg's wife. The result is a comedy with heart and personal discoveries

Night of ONE ACTS April 27,28,29, May 4,5,6,11,12,13
Three Viewings by Jeffrey Hatcher
The Power and the Glory by Le Wilhelm
---
---

THURSDAY, FRIDAY, SATURDAY: Doors at 6 pm, Buffet at 6:45 pm and Show at 8 pm
KINSMEN BANQUET HALL ST.ALBERT 47 Riel Drive. St Albert.....
Up from ENJOY Centre, Past Soccer Club, Rugby Club... Then it's us @ the Kinsmen Hall
​BUFFET & SHOW
Seniors: 60 & over.........We ID at Door (Just kidding)
---
---
---
THANK YOU!!!! .....St Albert Kinsmen......

We would like to send the Kinsmen a BIG THANK YOU, because none of our shows would be possible without their kindness and generosity. They provide space and time for us to rehearse, and are always willing to help out any way they can. Thank you Kinsmen of St Albert. To book your event call Kristen @ (780)220-4747
---
---
Who are we?
The troupe is a non-profit volunteer run Theatre company in St Albert, Alberta. It came into being from the experiences of the four founders – Danielle Pearce, Shirley Williams, Mark McGarrigle, and David Haas – staging Self Help by Norm Foster in February 2011.
After recuperating for a few months, discussions began about future initiatives the four would like to see for mounting further theatrical productions and training in the St. Albert area. Finally the four decided to get together and stage "Opening Night" by Norm Foster; a behind the scenes look at how characters react under stress on opening night of a play."Opening Night" was a success and followed in April 2012 with another Norm Foster Play called "Bedtime Stories" by Norm Foster; six intertwining vignettes examining the lives of many crazy characters . That closed out our 2011/2012 season.
Summer saw a change of guard on our board. We welcome Trevor Lawless and Kate Elliott to the board alongside Mark McGarrigle. Our 2012/13 Season is a great one, starting with "The Nuns Trail" by David Barrett in October. Valentines day 2013 sees the presentation of "Wife begins at Forty' by Cooney ,Sultan and Earl Barret; a cute story of a couple that are re-evaluating everything in their life, including their marriage.

---
---
Our Tribal Phoenix Design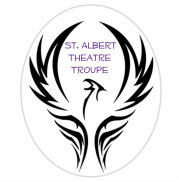 Tribal Phoenix Copyright 2003 Chris Clousser.
Thank you for allowing us to use his Tribal Phoenix design as our Logo.
---
---