---
2015 - 16 DINNER THEATRE Season
BOX OFFICE: 780 222 0102

THURSDAY, FRIDAY, SATURDAY: Doors at 6pm, Buffet at 6:45pm and Show at 8pm
SUNDAY SHOWS: Doors at 5pm, Buffet at 5:45pm, Show at 7pm
KINSMEN HALL ST.ALBERT 47 Riel Drive.
​Buffet and Show All INCLUDED
---
SEX PLEASE! WE'RE SIXTY by Michael & Susan Parker
FEBRUARY 4,5,6,7,11,12,13,14,18,19,20
Mrs.
Stancliffe's Rose Cottage Bed & Breakfast has been successful for many
years. Guests (nearly all women), return year after year. Her next-door
neighbor, the silver-tongued Bud Davis believes that they return to spend time with him in romantic liaisons. The prim and proper Mrs. Stancliffe, of course, steadfastly denies this, but really doesn't
do anything to prevent it. Perhaps she reluctantly accepts the fact, that "Bud
the Stud", as he calls himself, is, in fact, good for business.
---
---
MURDER AT THE HOWARD JOHNSONS by Sam Bobrick & Ron Clark
APRIL 28,29,30 MAY 1,5,6,7,8,12,13,14
All is fair in love? Even
murder? That's the question posed by this light and funny suspense comedy
about a love triangle in a Howard Johnson Motor Inn. A three scene love triangle
involving a woman, her lover, and her husband. In the first scene the wife
and her lover plot to murder the husband. In the second scene the wife and
her husband are plotting to murder the lover. The third scene has the
husband and the lover plotting to murder the wife - but this attempt, like
the others, fails.
---
---
---
---
THANK YOU!!!! .....St Albert Kinsmen......

We would like to send the Kinsmen a BIG THANK YOU, because none of our shows would be possible without their kindness and generosity. They provide space and time for us to rehearse, and are always willing to help out any way they can. Thank you Kinsmen of St Albert. To book your event call Kristen @ (780)220-4747
---
---
Who are we?
The troupe is a non-profit volunteer run Theatre company in St Albert, Alberta. It came into being from the experiences of the four founders – Danielle Pearce, Shirley Williams, Mark McGarrigle, and David Haas – staging Self Help by Norm Foster in February 2011.
After recuperating for a few months, discussions began about future initiatives the four would like to see for mounting further theatrical productions and training in the St. Albert area. Finally the four decided to get together and stage "Opening Night" by Norm Foster; a behind the scenes look at how characters react under stress on opening night of a play."Opening Night" was a success and followed in April 2012 with another Norm Foster Play called "Bedtime Stories" by Norm Foster; six intertwining vignettes examining the lives of many crazy characters . That closed out our 2011/2012 season.
Summer saw a change of guard on our board. We welcome Trevor Lawless and Kate Elliott to the board alongside Mark McGarrigle. Our 2012/13 Season is a great one, starting with "The Nuns Trail" by David Barrett in October. Valentines day 2013 sees the presentation of "Wife begins at Forty' by Cooney ,Sultan and Earl Barret; a cute story of a couple that are re-evaluating everything in their life, including their marriage.

---
---
Our Tribal Phoenix Design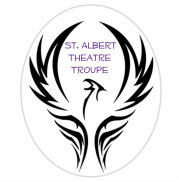 Tribal Phoenix Copyright 2003 Chris Clouser.
Thank you for allowing us to use his Tribal Phoenix design as our Logo.

---
---